Delivery
Peptides are generally purified as trifluoroacetate salts and supplied as a lyophilised powder. HCl or acetate salts can be requested at the quotation stage. They are supplied with LCMS data which comprises RP-HPLC and electrospray mass spec data, and a safety datasheet.
Standard delivery is usually 3-5 weeks from receipt of your order, although this may vary depending on the length and complexity of the peptide. Delivery is by courier.
Standard shipping is at room temperature, but we are able to offer cold shipping if required. Please contact us for more information.
Example data
The following images are samples of the data supplied with a typical order.
Click a thumbnail to view a large version
HPLC Data
This is example HPLC data for a peptide purified to greater than 95% by RP-HPLC. View detail.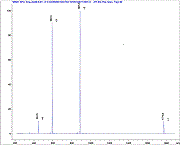 Mass-Spec Data
This is example electrospray mass spectrometry data for a peptide. The peaks shown are for the +1, +2, +3 and +4 charged ions. View detail.
Terms and conditions
View our Terms and Conditions of order